During the October visit to Belgrade, Vesna and I have dedicated some time to our project "people at work" and find little craft businesses in town. The challenge has been to approach various artisans during their working hours and convince them to let us take photos of them in their own working environments. Given my very basic knowledge of the Serbian language, I have relied on Vesna to communicate as the use of English did not work out. However rather than take photos at the first encounter, we thought it would be better to spend more time introducing ourselves and build a positive rapport, and agree to come back at a suitable time for them to take some portraits.
Here are the very interesting people at work we have met.
About old metal lamps …
"Mesing Art" (Bronze art) is a business open since 1887, located in the central area of Dorcol. Started by Dragoslav Lunic, it is now managed by Mr. Momcilo.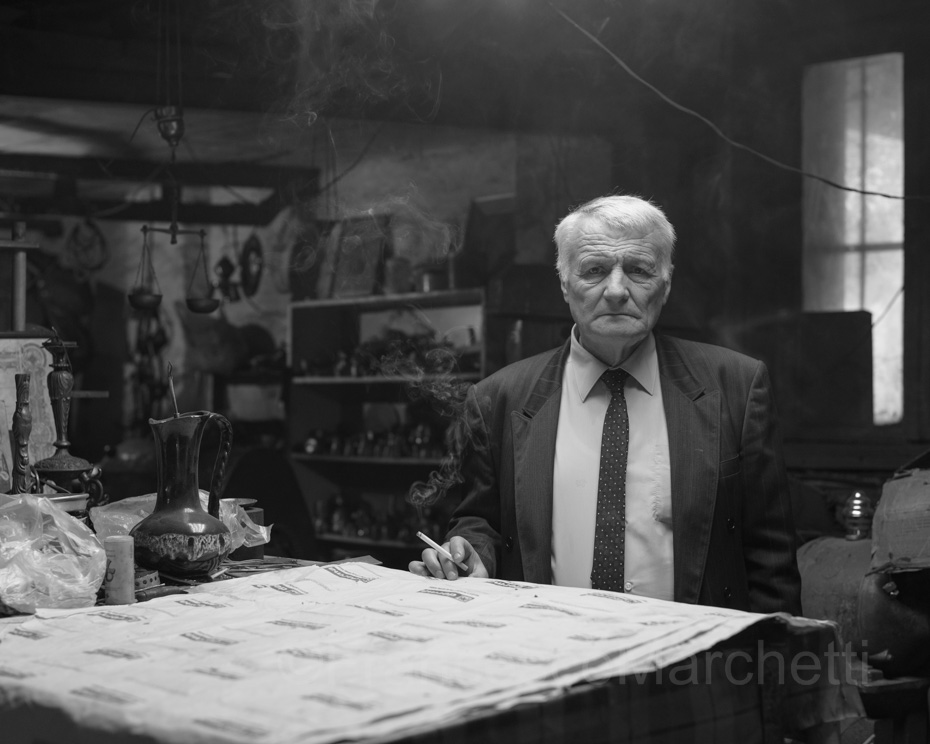 (Mr. Momcilo)
Few artisans also work in the shop to produce objects such as candle holders and lamps and other little objects that could be created using existing metal.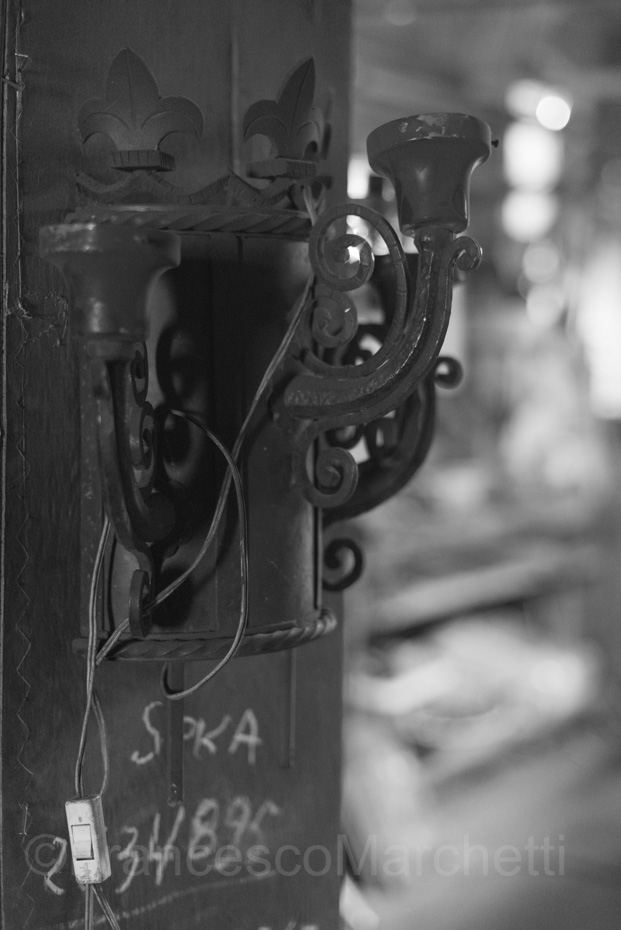 Momcilo proudly shows us an old lamp, part of a collection of 32 and designed by a Russian artist, which were part of the Parliament Building in Belgrade.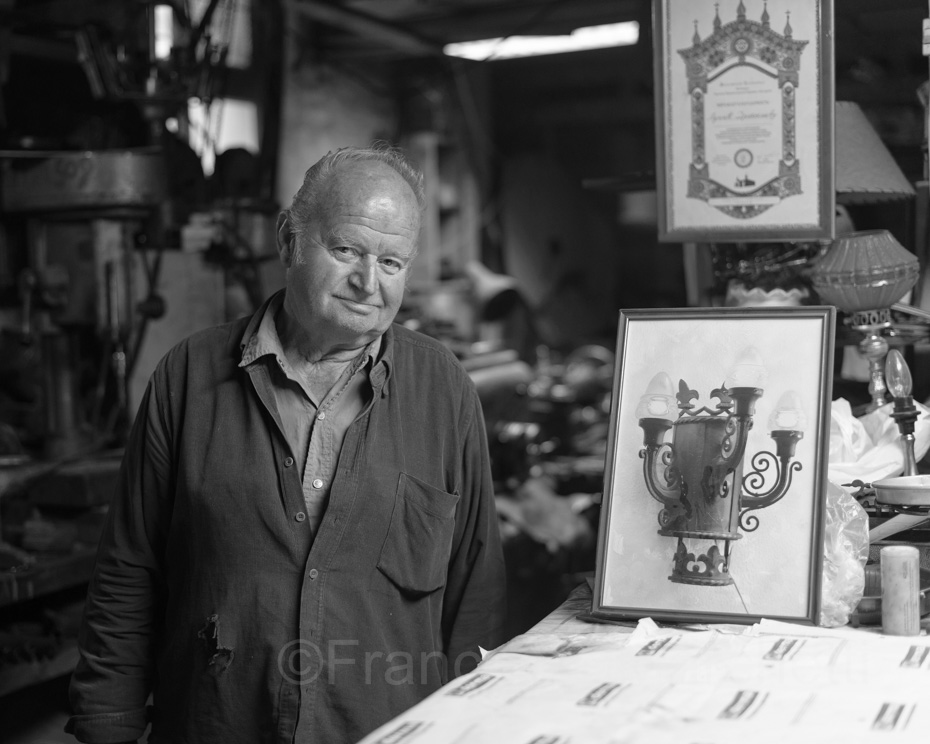 (Milan, one of the artisans, and a print representation of old lamp the business used to produce)
In the past, the business used to be successful as they were able to use the oven to melt the metal and produce lamps. At present the oven cannot be used anymore as flats are now built just above the shop. Without the use of the oven, the business cannot function as before.
They have a significant archive of old photographs and examples of their work over the years. Hope it is carried into the next generation at least as a crafts museum.
About old watches …
Dusko's watch repair shop has been there since 1956, started by his father who passed away in late 1970'. Dusko decided to take over the business to carry on the tradition, and he has now been working for 40 years.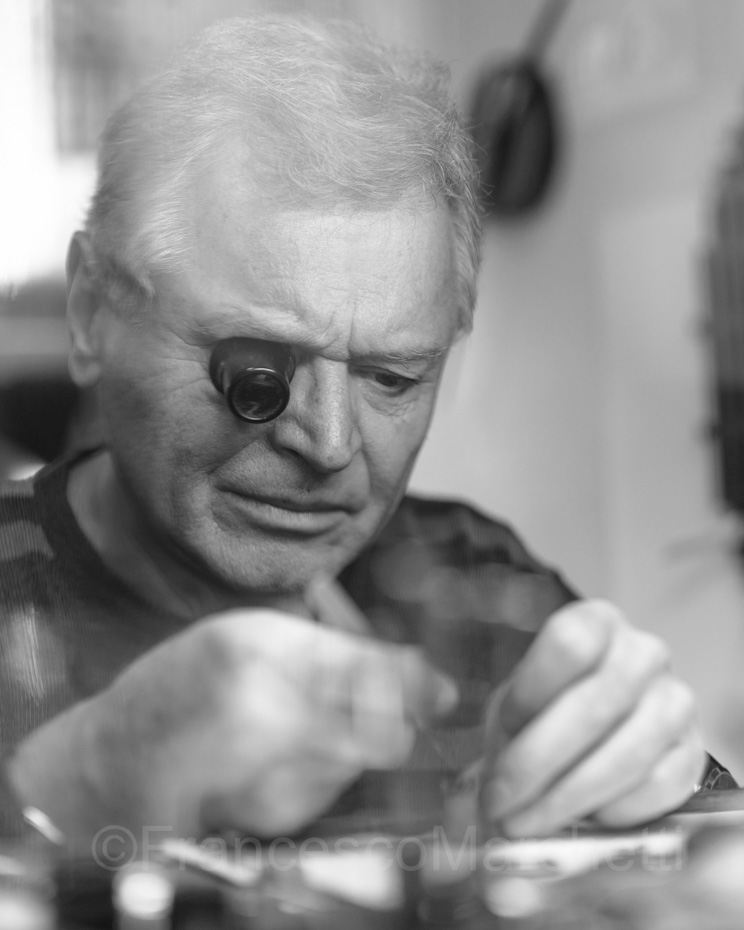 We learn that the best time for the business was between 1976 and 1990, after that things became to worsen because of the war. In good times, Dusko used to repair 6-8 watches per day, whereas nowadays it is about a watch per week. Its working desk is covered by precision tools which need to be firmly handed in order to reach tiny and delicate watch mechanism.
The work process has also changed. In the past, repairing a high quality watch used to be a challenging and problem solving task, as single internal parts could be made and fixed. Now a whole faulty mechanism is replaced and less work and creativity is involved.
Dusko also repairs large wall watches, an art which takes 3-4 years of practice, although the initial learning could be fast.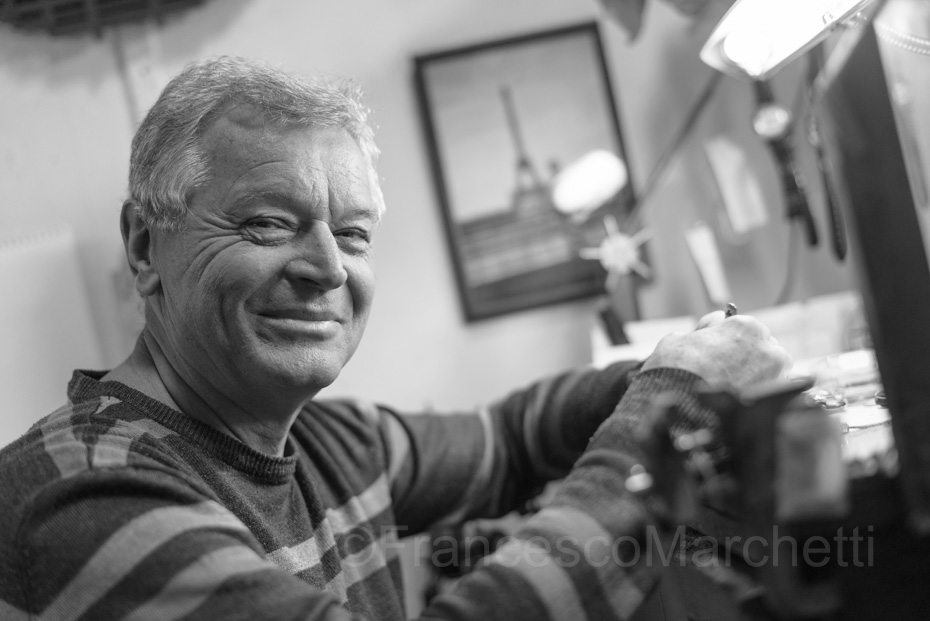 I am interested to know what the real opportunities to learn this craft are, and we acknowledge that there is a school for applied crafts in Zemun, where students could gain broad skills in manual work such as this one. Nevertheless, there are very few shops in Belgrade were this large wall watches are repaired. Dusko tells us that he had an apprentice for some time, and she eventually dropped out to follow her university studies. His daughter is likely to follow a different path too but I feel that Dusko would not mind if she would learn to repair these old and proud 'darlings' as a hobby.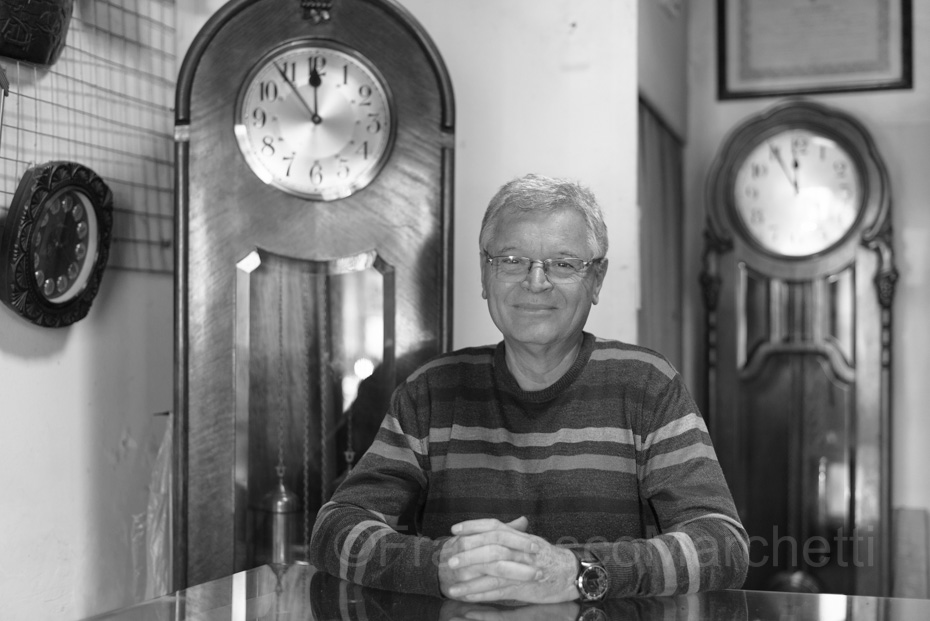 I am impressed to learn about the level of specialised skills that it takes in this profession, and I jokingly suggest I should learn at least how to replace a battery. Now I know where to take my old watches for repair in Belgrade.
About duvets and silky cushions …
Predrag inherited his business from his grandfather, who retired in 2005 at 75, after 60 years in the profession. Within the little space of a single room, Predrag makes made-to-measure precious duvets and mattresses with traditional methods and natural material such as wool and covered in damask and silk. All he needs is its sewing machine and experience… not to mention his cheerfulness which is very contagious.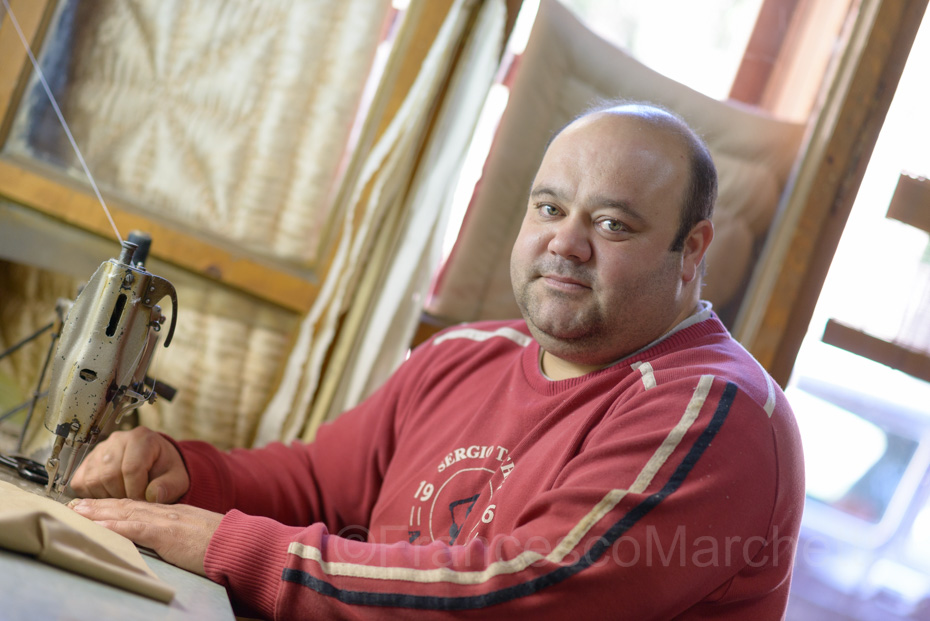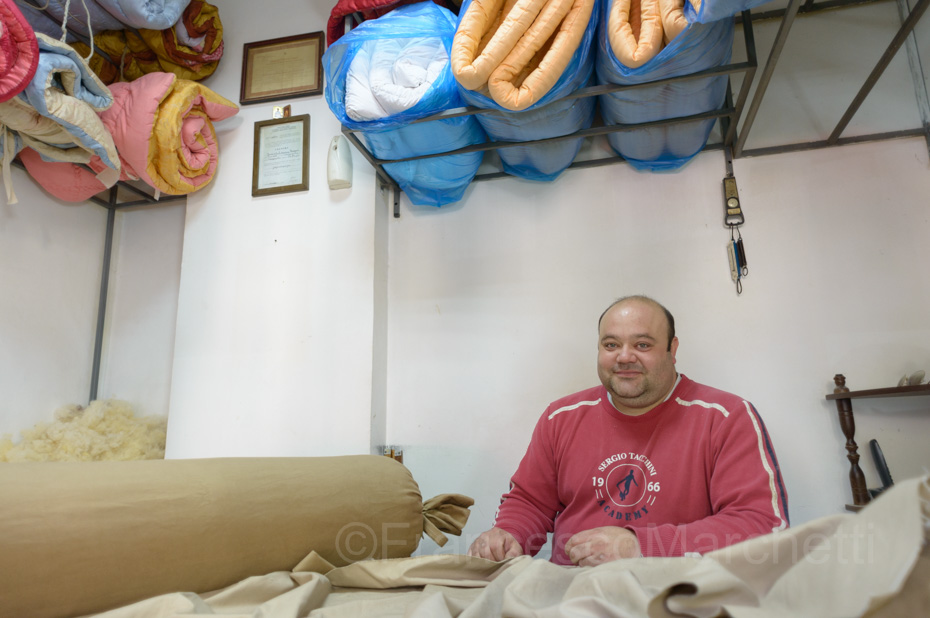 Predrag has learnt the profession under a rigorous discipline, as his grandfather was a perfectionist who would demand to do and undo pieces several times before approving the final product.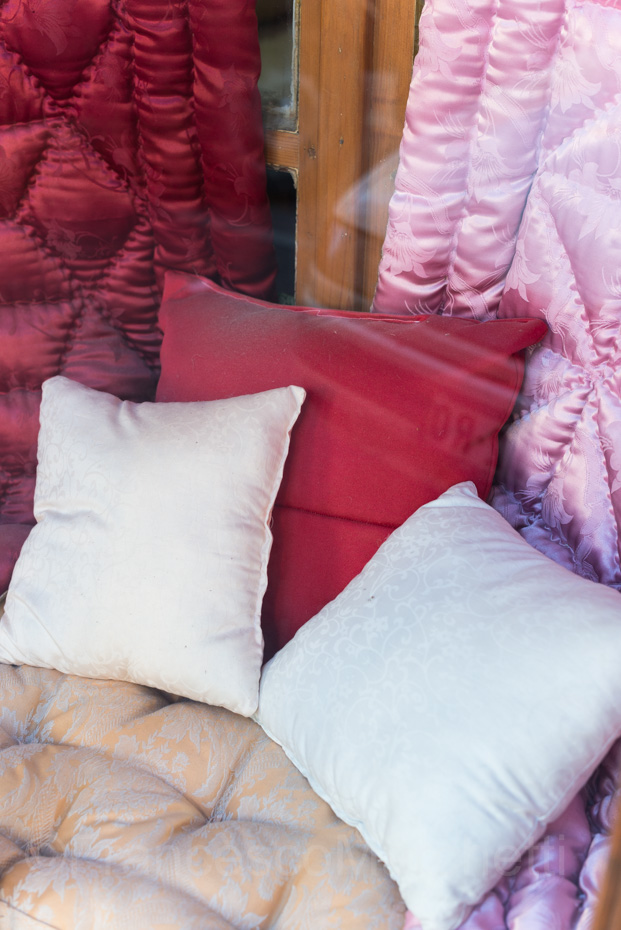 Predrag advice to the world is that everyone should finish the formal studies and go to university, but at the same time learn some craft as this will be useful in any situation. I found this to be a very wise advice.
It has been a pleasure to meet Momcilo, Dusko and Predrag during this visit in Belgrade.
We have been welcomed warmly and I thank them for sharing their stories with us. In these beautifully kept workshops, rich of soul and personal history, we have met people whose choices were driven by passion for crafts and desired to endure the tradition, and necessity. I really hope that there will be opportunities to hand down these crafts to future generation.
We will pay our visit to them again when we are back to Belgrade.
Francesco